Deburring
Deburring means removing sharp edges on the sheet that can occur after laser cutting or punching. There may be different needs for deburring depending on what the part is to be used for. Plåt & Mekano Romator provides several different ways of deburring for a safe and high-quality result.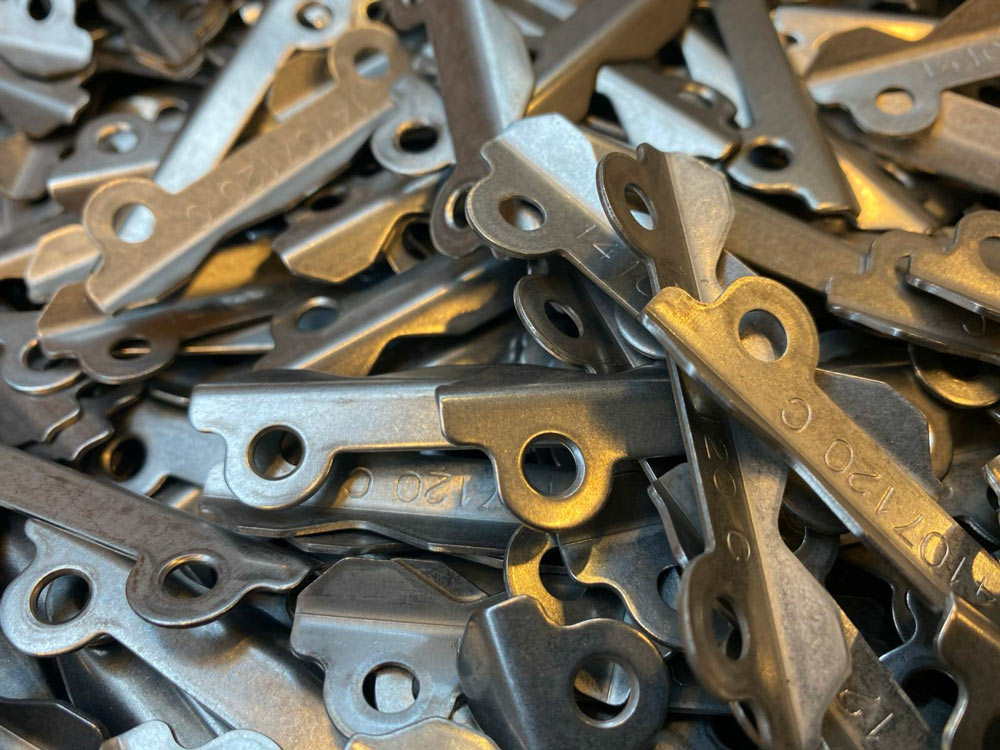 Deburring
We offer following methods for deburring:
Automatic brushing
This is done in a so-called Fladder, where small brushes of emery cloth circulate and brush vertically and horizontally on the part that is flattened through the machine. The brushes also remove sharp edges in holes. The surface gets a rosy, even, and nice structure, which is well suited for use as it is or for painting.
Wet deburring / Grinding
This deburring is done in our Lissmac Steelmaster. It can fell a thin layer of the surface to get rid of scratches, to get smooth soft edges or a brushed fine surface. This method is excellent for stainless steel or aluminum sheets that must not be sharp. The machine has four stations that can be equipped with different heads, which rotate or circulate. Here you can, for example, choose ceramic brushes and sanding belts with different grain sizes.
Tumbling
Tumbling is done in three tumbling machines that are connected to a closed system with an associated maize dryer. The details are placed in a drum, which, like a washing machine, rotates around the goods together with soft ceramic stones and liquid, and in this way sharp edges are worn away from the part. Finally, the details end up in a new drum with cornmeal and heat, which makes the details dry and comes out clean, nice, and smooth to take in. The process is completely closed, so no waste or wastewater comes out. We comply with all applicable environmental legislation for our business.
Benefits of deburring:
Removes sharp edges on the part, even in holes
Gives a brushed, smooth, and smooth surface
Removes scratches
Do you have any questions about deburring? Contact Us!
Do not hesitate – Get in touch with your questions!
Do you have any questions about our services or products? Then just get in touch with one of our competent employees!