Machinery from Amada
With cutting-edge innovative technology, the press brake HG ATC from Amada automatically switches tools between different jobs and thereby shorten set-up times to a minimum.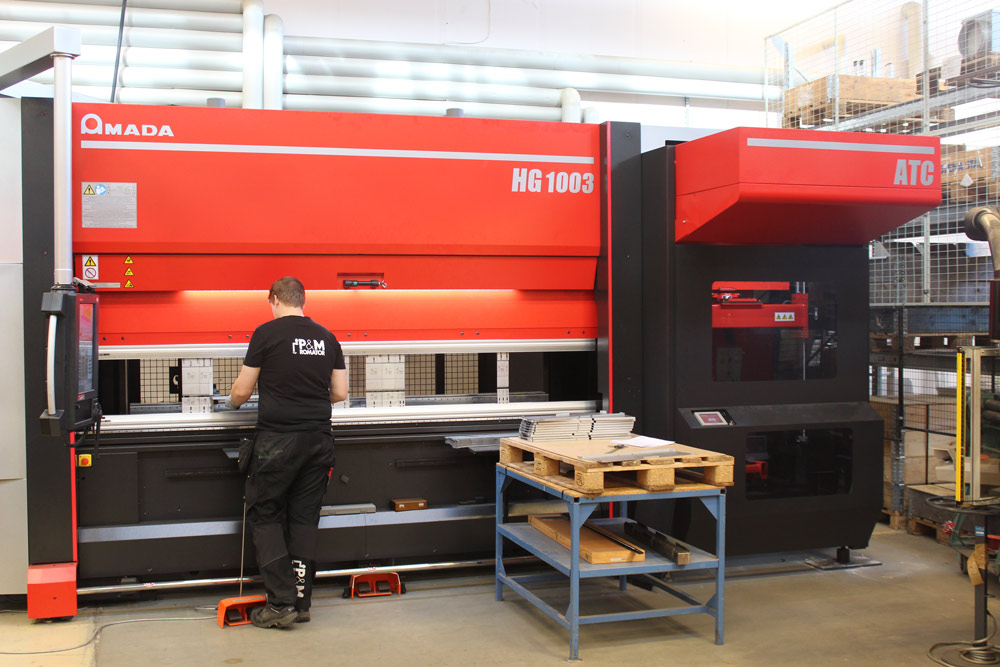 Machinery from Amada
HG-ATC 1003 Amada press brake with tool changer
HG 1003 ATC is Plåt & Mekano Romator's most modern press brake, which has the latest technology and an integrated automatic tool changer. The main goal of an automated tool change is to improve profitability and increase productivity. With pioneering innovative technology, the press brake can automatically switch tools between different jobs and thereby shorten set-up times to a minimum.
The advantages are obvious with recurring advanced bending of details in small series.
A cost-effective production:
Stop times are shortened.
Automatic tool change – perfect for short series.
Hybrid Drive System – energy-efficient processes.
Multi Touch Screen 3D control – clear and distinct.
Digital sub-processing – BendNavi 3D control software – easy and fast to program.
BI-S automatic angle measurement system – angle measurement during the process, high accuracy.
Amada EG-6013 AR press brake with robot cell
Amada EG-6013 AR is a small and neat servoelectric press brake, which offers high speed and accurate bending with lower electricity consumption, equipped with a press brake robot for smaller details (max. 1.5 kg). The edge press has a bending length of 1,300 mm and a pressing force of 600 kN. The robot moves along a floor rail parallel to the press and an integrated tool station.
An automatic protractor controls each angle and an innovative sensor system in the rear stop adjusts the length of each trestle.
Together, these systems provide two important advantages, namely outstanding precision and allow long unattended production flows in automatic mode. Plåt & Mekano Romator's digital cameras also make the process monitorable for remote staff.
Do not hesitate – Get in touch with your questions!
Do you have any questions about our services or products? Then just get in touch with one of our competent employees!
Edge press robot
The automatic robot system used in the EG-6013 AR is very versatile. The 6-axis robot moves along a floor rail in front of the press brake. Loading of platess is done from 4 different compartments. The robot picks up the plate with suction cups and performs all steps, for example it controls the thickness of the material and bends all the bends.
If necessary, the robot switches to a gripper that is integrated in the arm. It can also bend parts that need to be gripped from behind in the machine, which would be life-threatening for a human hand. Finally, it places the part on a synchronized conveyor belt. After finishing work, the robot automatically changes tools and sets up the next job in a few minutes.