Laser cutting
With laser cutting, you can get straight lines and details out of a sheet metal. This method gives a great freedom of choice when it comes to the thickness of the plate and complicated shapes and patterns, even in 3D.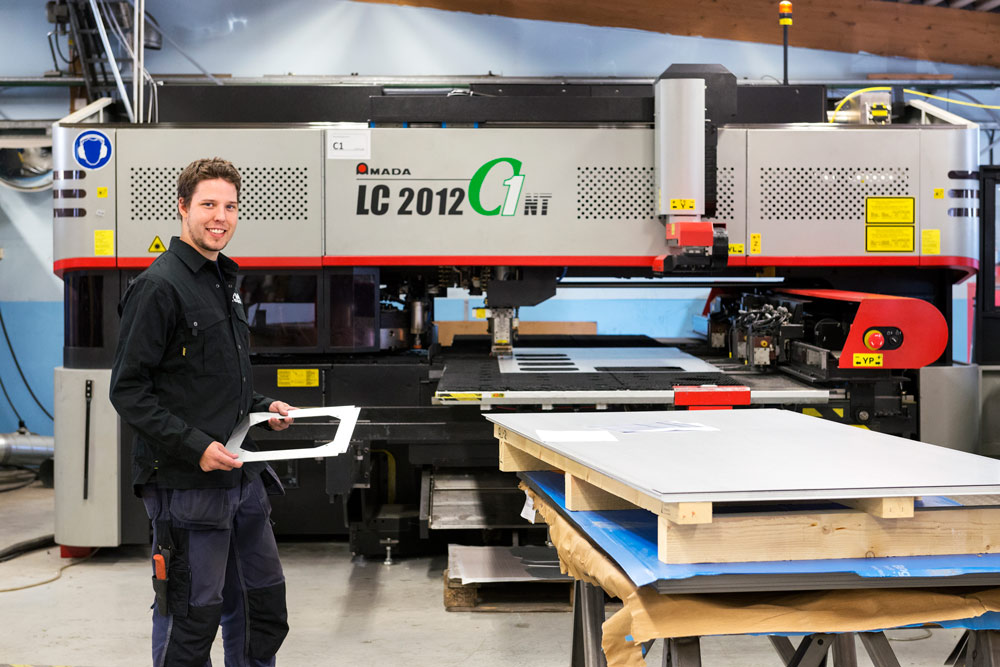 Advantages of laser cutting in sheet metal
Laser cutting in sheet metal is a fantastically precise method for getting straight lines and details out of a sheet metal and gives a great freedom of choice when it comes to the thickness of the plate and complicated shapes and patterns, even in 3D. Laser cutting is most often used industrially in, for example, the machine and manufacturing industry, the automotive industry, and the shipbuilding industry.
Laser cutting – an outstanding method
This flexible, non-touch method handles rapid adjustments and dimensional changes and minimizes post-production. It is thus a time-efficient method and reduces production costs thanks to the narrow cut and minimal material waste. Compared with, for example, gas cutting, laser cutting gives a finer cut and a less heat-affected zone. You get a smooth surface, and the cut can be as narrow as just a few tenths of a millimeter. Laser technology is simply the most outstanding technology when it comes to cutting advances shapes, in organic as well as in non-organic materials.
Outstanding technology for cutting advanced shapes with fine cuts.
Time- and cost-effective method.
Technology that can withstand rapid adjustments and dimensional changes.
Provides great choices.
Laser cut sheet metal – how does it work?
Using fiber optics or mirrors, a thin, perpendicular, and focused beam from a high-power laser is aimed at the workpiece. The laser beam hits the surface of the plate, where the energy is converted to heat and the material melts or evaporates completely. The actual cutting begins when the laser beam has penetrated the material at a certain point. The laser system follows the selected template and separates the material in the process.
The thickness of the material that can be cut, and the result of the cur, are determined by the machine's performance, the cutting speed, the material quality, and the machine's conditions, but also the operator's skills and routine to set all the different parameters in the machine.
Modern combi-laser machines at your service
Our modern combi-laser machines enable both laser-cut sheet metal and punching with tools. Countersinks, threads, embossing and other shapes are made in the same machine set as the laser cutting, which provides an efficient and fast production. The latest machine also has unloading with a picking robot. At Plåt & Mekano we can cut from about 0.5 up to 10 mm in steel, 0.5 up to 5 mm in aluminum and 0.3 up to 5 mm in stainless steel.
With us, you can count on getting a flexible and cost-effective production, where our expertise and experience will give the right results according to your high demands.
Do not hesitate – Get in touch with your questions!
Do you have any questions about our services or products? Then just get in touch with one of our competent employees!
Amada LC 2012 C1 Laser punch combi machine
Plåt & Mekano Romator's laser department has no less than three combi machines, which is very good capacity in the industry. Amada combi laser LC 2012 C1 is together with our two Apelio combi machines in production around the clock. All are of the type of CO2 laser, 2kW and have integrated punching units in the same machine as the laser unit. So, there are two machines in one!
The advantage of this type of machine is that for the right type of part that contains moldings, countersinks, and threads, you save set-up time, and you get a faster and more cost-effective production. You can make engravings, punch markings, collars, and bumps, but also hit smaller bends with tools directly in the machine. We can cut in sheet steel 0.5 – 10 mm, stainless steel 0.5 – 5 mm and in aluminum 0.5 – 5 mm. In the machines we can cut plates in the size 2500 x 1250 mm
Why choose laser cutting at Plåt & Mekano Romator?
More than 20 years of unique experience of laser cutting and punching with combi machines.
Good habit with very high finish requirements on the products.
Three combination machines: punch and laser.
Picking robot for unloading to conveyor belts.
If you need a production that includes cutting into sheet metal, just get in touch. As you can see, we can solve most things.