Punching of sheet metal
Through our punching machines, we have the flexibility to both be able to make fast prototypes and to punch out very high volumes.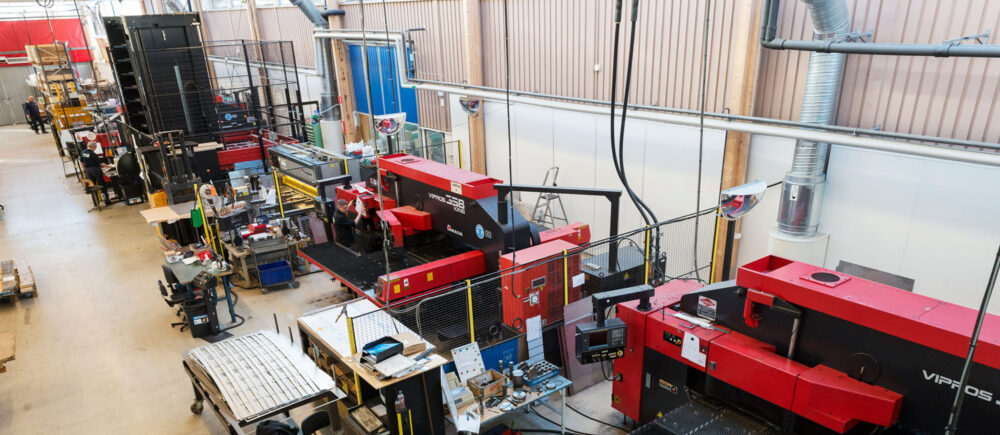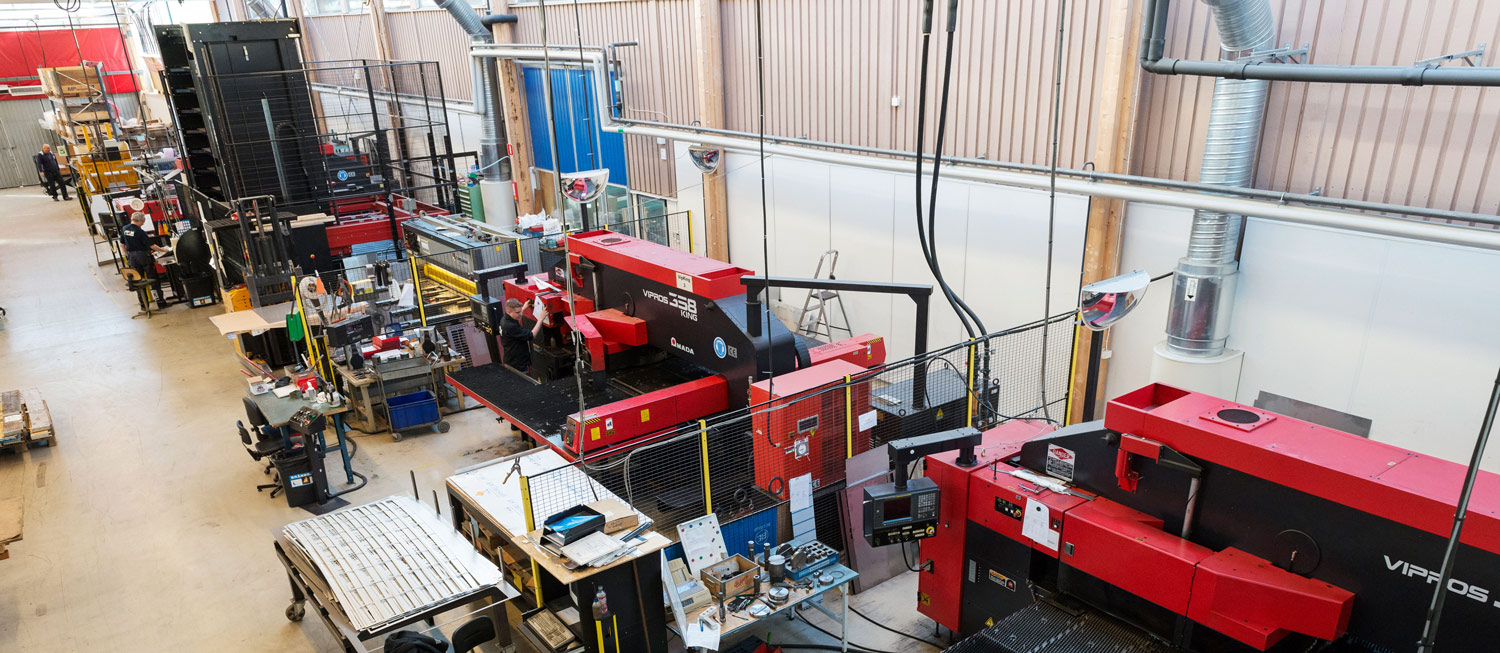 Flexible punching of sheet metal
In our punching machines, we have machine capacity of over 50,000 hours/year. It gives us flexibility to both be able to make fast prototypes and to punch out very high volumes. Several of our punching machines also have loading and unloading robots.
We perform the punching in Stockholm and can deliver punched sheet metal parts to customers in the Stockholm area at short notice. We also deliver to customers throughout the country, as well as abroad. We also perform laser cutting in sheet metal and aluminum in combi-machines, punching/laser.
We punch from about 0.5 mm up to 5 mm in aluminum, up to 2 mm in stainless steel and 4 mm in mild steel. When the material is thicker we cut it in our combi-machines, which can also punch. The tolerance generally maintained is ISO 2768-m. See tolerance table here.Se toleranstabell här.
What is punching and how does it work?
The method is one of the cutting methods, which is divided into two main groups: cutting and punching. We also have for cutting sheet metal, which are suitable when things are going fast, and you do not have such high tolerance requirements.
Punching is an effective method which means that with a tool called a punch you push it through the material, with the desired shape of the hole, under back pressure from a pad. The punch and the pad have sharpened edges with corresponding contour that the punched object will have. With punching, no unevenness or cracks should appear at the cutting surface.
We use punching to make holes in thin sheet metal materials, 0.5 mm – 4 mm wall thickness. You can also nibble with punching machines, i.e., you form contours by subsequent punches. You get an entrance side, and a side with burrs on the plate, but we always deburr the plates in one of our fine machines adapted for this.
Do not hesitate – Get in touch with your questions!
Do you have any questions about our services or products? Then just get in touch with one of our competent employees!
Punching machine with CNC control
Punching has long existed as a method of hitting holes and contours in a plate with tools. Nowadays, the machines are CNC-controlled, i.e., computerized. The process starts with a programmer having made unique program for each detail to be manufactured, where tools, order and how the details are to be placed on the sheet metal blanks are stated. Then the tools are rigged in the machine, and it is loaded with the right sheet material.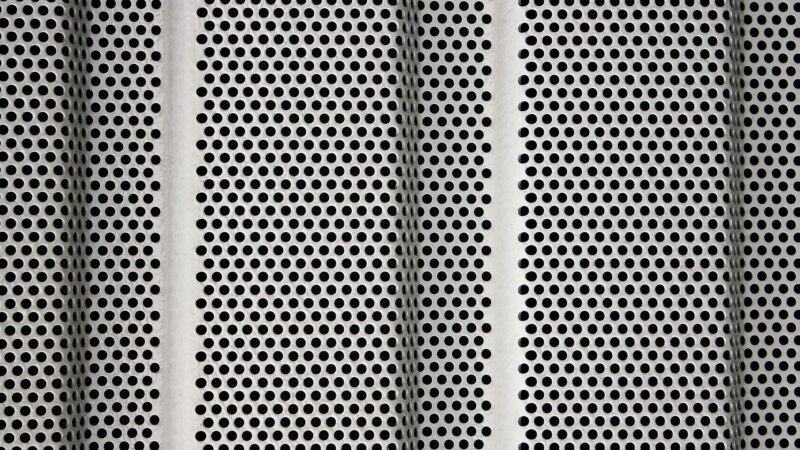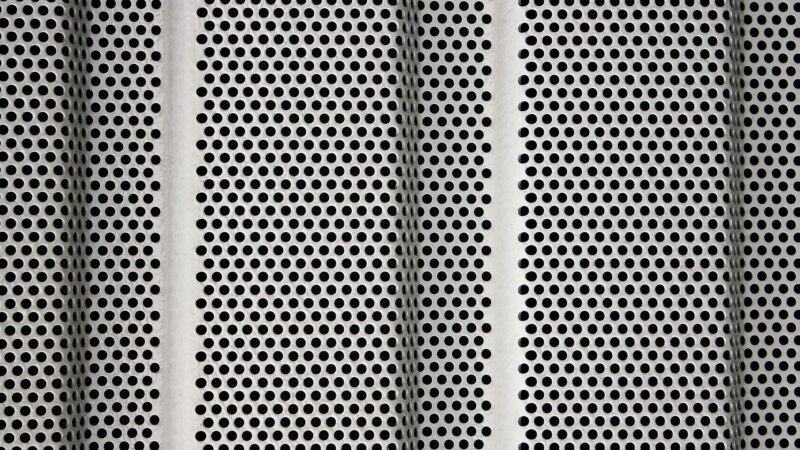 Operator controls
We have routines for how we check the details, among other things through inspection, operator checks with measurement at the machine and measurement in measuring machines or control against similar. The result of punching is very accurate – and in a short time. Experience is very important when working in punching machines. All materials are unique and can behave differently from batch to batch. This means that one manufacturing occasion is not always the same as the other, where our experience plays a major role in the result. It is also important to know how the tools work and how the machine works. We have 40 years of experience in CNC punching and can promise the highest quality.
If you need punching of sheet metal, contact us at Plåt & Mekano Romator. We know sheet metal and punching; you get safe products and good advice and with short lead times at the right price.
Punching of sheet metal with Plåt & Mekano Romator
40 years of experience in CNC-controlled punching machines.
One of the Stockholm region's largest machine capacities – which created flexibility, speed, and the possibility of large volumes.
We also have a very large selection of tools, which means that we can handle most things with existing tools.
Five punching machines, of which two have automation solutions for loading and unloading. This makes high flexibility.
Production adaptation – We help our customers find the right method and design in a cost-efficient way.