Assembly
We regularly deliver large, pre-assembled machines and systems, which include pneumatics, electronics, and cabling.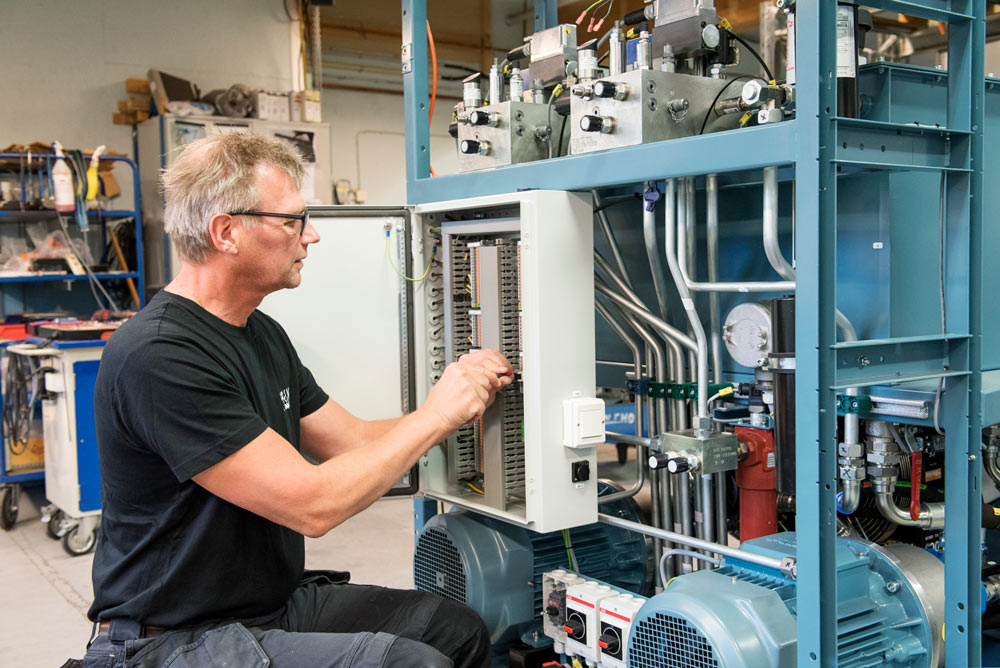 Mechanical assembly
With us, assembly is often about mechanical assembly, which means that we assemble different mechanical parts, such as self-manufactured sheet metal components together with standard components, such as locks, hinges, moldings, etc. We mount various fastening elements that are mechanically pressed into the plate. P&M Romator regularly delivers large, pre-assembled machines and systems, which include pneumatics, electronics, and cabling. We also perform testing and deliver the machines directly to the end customer. Read more about Mechanical assembly here.
Assembling with fasteners
The most common type of assembling is different fasteners, such as press screws, press nuts, and press spacers. This is done in machines, either manually or with automatic feeding. There are many different fasteners adapted for different purposes and requirements. P&M Romator can help you choose the right variety that is both functional and cost-saving for your project specifically.
We perform assembly as:
System assembly – finished products
Partial assembly – semi-finished products, alt. where only a few parts are put together
Mechanical assembly
Pneumatic assembling
Electrical installation
Electronics assembly
Test drive
Do not hesitate – Get in touch with your questions!
Do you have any questions about our services or products? Then just get in touch with one of our competent employees!
Assembly methods for mechanical assembly:
Pressing of fasteners – Standard screw, nut, spacers etc.
Pop riveting – The most common riveting method, with compressed air tools, a rivet is pushed through punched holes in the plates that are riveted together by pulling the rivet together on the back
Crank riveting – "Toxing" – Compresses two materials without holes in the plates that form a rivet joint
Self-Piercing riveting – A hole is made by the machine at the same time as the rivet is pushed through the plates.
Standard screw connections – Loose screw and nut
Bonding etc.
As you can see, we perform various types of assembly. Contact us and we will help you.