Bending
Thanks to our modern machines and long experience, we have great opportunities to get a very precise result when bending.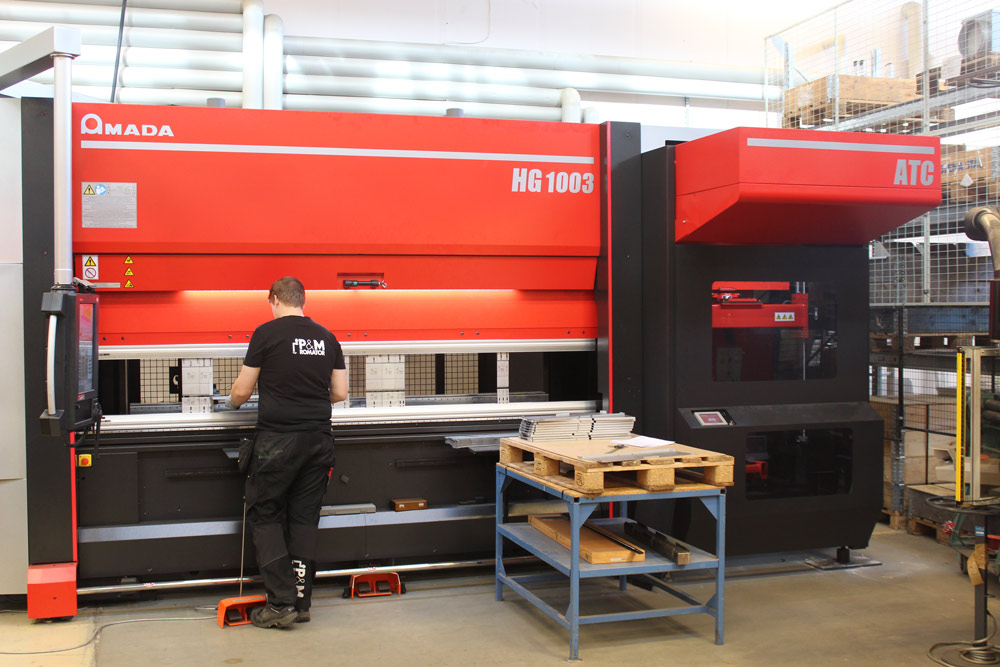 Bending
Bending, also called edge pressing, is one of the most common ways to fold edges or form sheet metal details that are not completely flat. Thanks to our machines, we have great opportunities to get a very precise result.
But machines in all their glory, you must also have solid experience and a good selection of tools for the machines. Plåt & Mekano Romator has just all these components needed to produce very good as well as advanced bent sheet metal details. Our staff is also very solution-oriented, which means that "impossible" projects sometimes become a reality with us. You can easily turn to us if you have questions about your design, and we can help you see what is feasible or cost-effective. Our large machine park in bending creates both good opportunities for long series as well as the flexibility required for short, fast prototypes.
Precise bending with unique robotized press brake
The latest addition to our machine park is a self-locking press brake with an integrated tool bearing. It itself quickly changes tools between the different jobs and is well suited for small series. The precision is high thanks in part to integrated angle measurement. We also have a unique robotized press brake for smaller details in our machine park, which is easily programmed according to your CAD file. Then the machine performs tool rigging, picking of the part, measuring as well as checking angles and unloading – completely automatically. This machine set is suitable for both prototypes and long series.
Choosing the right bending of sheet metal is a cost advantage
Bending of sheet metal can often be used instead of assembling several details, which often saves costs. But those who are not familiar with production may need help to draw the line between what is possible to bend and what is not, as well as what is cost-effective. We help our customers with the demarcation, which can be difficult and unfortunately the CAD programs do not help. Therefore, a dialogue with Plåt & Mekano Romator's staff can be a good start in the design work.
How does bending work?
Bending begins with an operator programming the machine, manually or automatically, so that the correct tool is set up in a specific order. The operator must consider the thickness of the sheet, the quality of the material and the finishes and tolerances required in the drawing when rigging his. Machine. The tools much have the right angles and lengths, and that you adjust the distances on the stops against which the plate rests. Several test pieces must be made, and adjustments may be required to tune the machine in relation to the material.
The plate is placed in the gap between the tools two parts. . Then the upper tool, the knife, is pressed with many tons of force down against the underlying die. This means that the plate is folded/bent according to the tools. Then the part is moved to the next station, where the next bendis made, until all the bends are done. We can manufacture details that have anything from one to just over thirty bends on the same detail. The tolerances for bending are usually the average tolerances, ISO2768-m. See tolerance table here. The presses on Plåt & Mekano Romator have between 1-3 meters bending length and between 50-170 tons of pressing force.
Do not hesitate – Get in touch with your questions!
Do you have any questions about our services or products? Then just get in touch with one of our competent employees!
Choose bending at Plåt & Mekano Romator
Many years of professional experience, very knowledgeable and problem-solving staff.
One of the Stockholm region's largest machine capacities with a large selection of tools – which creates flexibility, speed, and the possibility of large volumes.
We have a unique self-rigging robot bending machine for smaller details.
A state-of-the-art and fast self-rigging press brake with integrated tool bearing, perfect for short series.
We can manufacture our own tools where needed for smaller series, which reduces costs.